Introduction
On August 12th, the UK Government revised its counting methodology and reporting of deaths from Covid-19, bringing Public Health England's reporting into line with that from the other home countries, Wales, Northern Ireland and Scotland. I have re-calibrated and re-forecast my model to adapt to this new basis.
Reasons for the change
Previously reported daily deaths in England had set no time limit between any individual's positive test for Covid-19, and when that person died.
The three other home countries in the UK applied a 28-day limit for this period. It was felt that, for England, this lack of a limit on the time duration resulted in over-reporting of deaths from Covid-19. Even someone who had died in a road accident, say, would have been reported as a Covid-19 death if they had ever tested positive, and had then recovered from Covid-19, no matter how long before their death this had happened.
This adjustment to the reporting was applied retroactively in England for all reported daily deaths, which resulted in a cumulative reduction of c. 5,000 in the UK reported deaths to up to August 12th.
The UK Government say that it is also to report on a 60-day basis (96% of Covid-19 deaths occur within 60 days and 88% within 28 days), and also on the old basis for comparisons, but these numbers are not yet available.
Model changes
I have adapted my model to this new basis, and present the related charts below.
Model forecast for the UK deaths as at August 14th, compared with reported for 84.3% lockdown effectiveness, on March 23rd, day 52, modified in 1 step by -0.3% on May 13th, day 105

Model forecast for the UK deaths as at August 14th, compared with reported for 84.3% lockdown effectiveness on March 23rd, modified in 1 step by -0.3% on May 13th

Model forecast for the UK deaths as at August 14th, compared with reported for 84.3% lockdown effectiveness, on March 23rd, modified in 1 step by -0.3% on May 13th

Chart 4 comparison of cumulative & daily reported & modelled deaths, & reported trend line, for 83.5% effectiveness, adjusted by -0.3% on May 13th

Chart 12 for the comparison of cumulative & daily reported & modelled deaths to 30th Sep, adjusted by -0.3% on May 13th

Chart 12 for the comparison of cumulative & daily reported & modelled deaths to 26th April 2021, adjusted by -.3% on May 13th
This changed reporting basis reduced the cumulative UK deaths to August 12th from 46,706 to 41,329, a reduction of 5,377.
The fit of my model was better for the new numbers, requiring only a small increase in the initial March 23rd lockdown intervention effectiveness from 83.5% to 84.3%, and a single easing reduction to 84% on May 13th, to bring the model into good calibration up to August 14th.
It does bring the model forecast for the long term plateau for deaths down to c. 41,600, and as you can see from the charts above, this figure is reached by about September 30th 2020.
Discussion
The relationship to case numbers
You can see from the first model chart that the plateau for "Recovered" people is nearly 3 million, which implies that the number of cases is also of the order of 3 million. This startling view is supported by a recent antibody study reported by U.K. Government here.
This major antibody testing programme, led by Imperial College London, involving over 100,000 people, found that just under 6% of England's population – an estimated 3.4 million people – had antibodies to COVID-19, and were likely to have previously had the virus prior to the end of June.
The reported numbers in the Imperial College study could seem quite surprising, therefore, given that 14 million tests have been carried out in the U.K., but with only 313,798 positive tests reported as at 12th August (and bearing in mind that some people are tested more than once).
But this is also in line with the estimate made by Prof. Alex de Visscher, author of my original model code, that the number of cases is typically under-reported by a factor of 12.5 – i.e. that only c. 8% of cases are detected and reported, an estimate assessed in the early days for the Italian outbreak, at a time when "test and trace" wasn't in place anywhere.
A further sanity check on my modelled case numbers, relative to the number of forecasted deaths, would be on the observed mortality from Covid-19 where this can be assessed.
A study by a London School of Hygiene & Tropical Medicine team carried out an analysis of the Covid-19 outbreak in the closed community of the Diamond Princess cruise ship in March 2020.
Adjusting for delay from confirmation-to-death, this paper estimated case and infection fatality ratios (CFR, IFR) for COVID-19 on the Diamond Princess ship as 2.3% (0.75%-5.3%) and 1.2% (0.38-2.7%) respectively (the difference between the chance of dying having already caught the virus (CFR), and the chance of both catching and dying from it (IFR)).
In broad terms, my model forecast of 42,000 deaths and up to 3 million cases would be a ratio of about 1.4%, and so the relationship between the deaths and cases numbers in my charts doesn't seem to be unreasonable.
Changing rates of infection
I am not sure whether the current forecast for further decline in the death rate will remain, in the light of continuing lockdown easing measures, and the local outbreaks.
Both the Office for National Statistics (ONS) and Public Health England (PHE) reported in early July a drop in the rate of decline in Covid-19 cases per 100,000 people in England.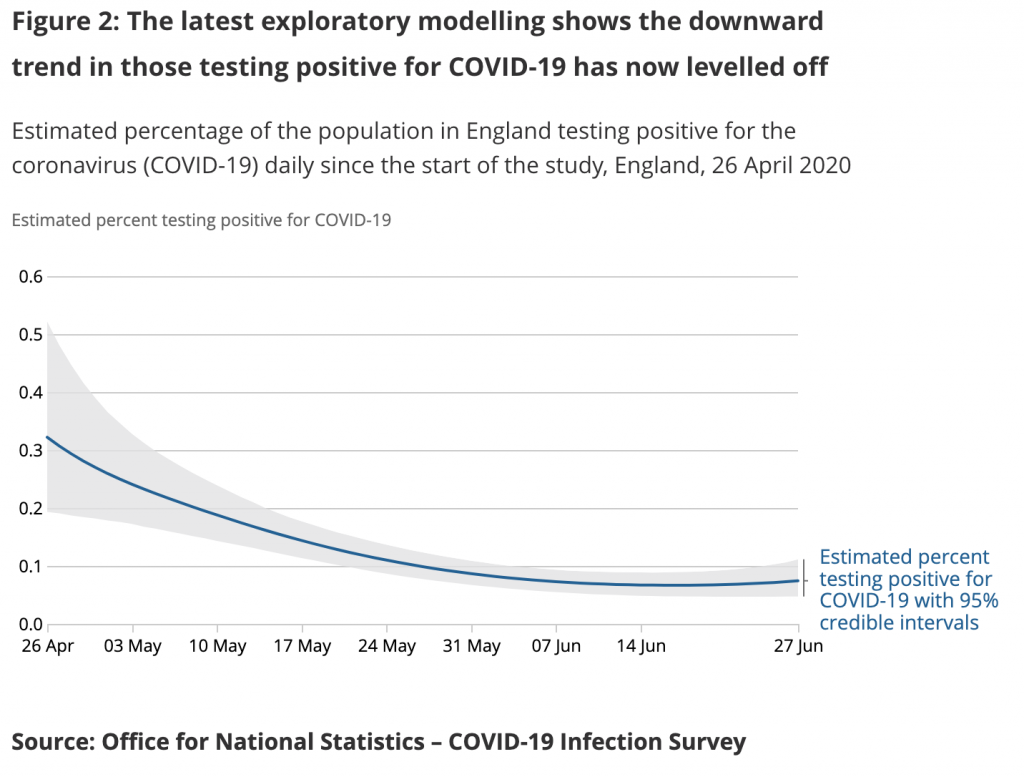 This was at the same time as the ONS reported that excess deaths have reduced to a level at or below the average for the last five years.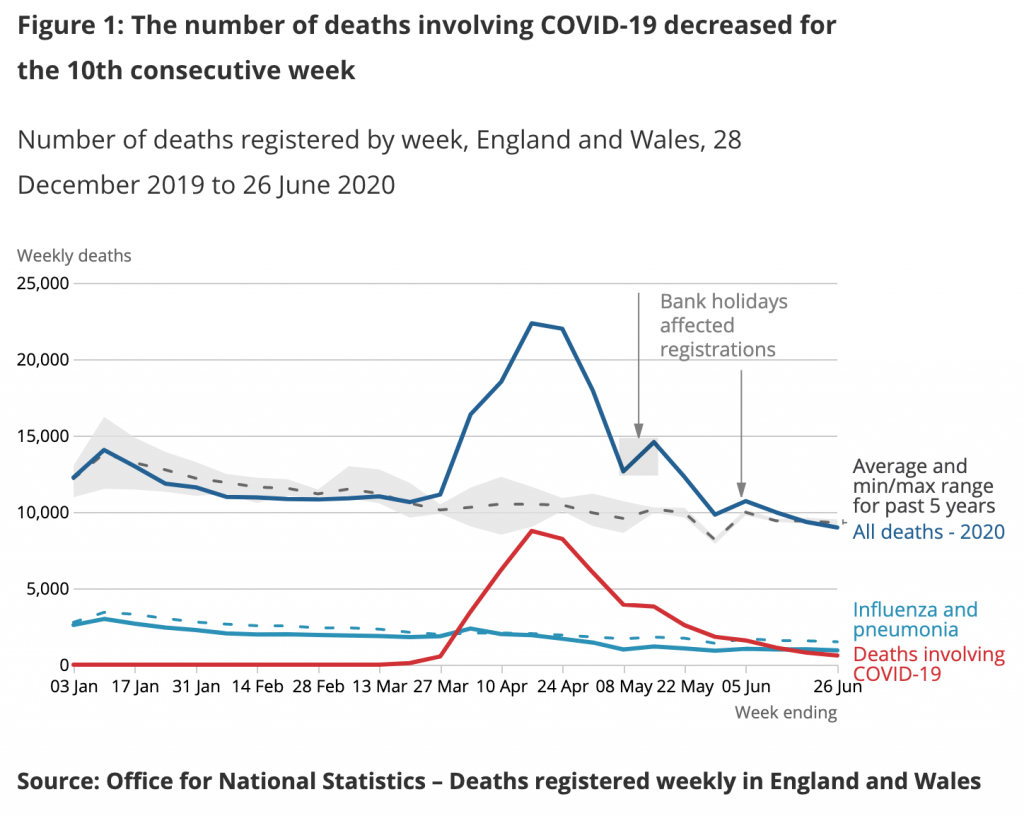 PHE reports this week that the infection rate is now more pronounced for under-45s than for over-45s, a reversal of the situation earlier in the pandemic. Overall case rates, however, remain lower than before; but although the rate of decline has slowed for-over 45s, for under 45s it has started to increase slightly.
Herd immunity
Closely related to the testing for Covid-19 antibodies is herd immunity, a topic I covered in some detail on my blog post on June 28th, when I discussed the relative positions of the USA and Europe with regard to the spike in case numbers the USA was experiencing from the middle of June, going on to talk about the Imperial College Coronavirus modelling, led by Prof. Neil Ferguson, and their pivotal March 16th paper.
This paper was much criticised by Prof Michael Levitt, and others, for the hundreds of thousands of deaths it mentioned if no action were taken, cited as scare-mongering, ignoring to some extent the rest of what I think was a much more nuanced paper than was appreciated, exploring, as it did, the various interventions that might be taken as part of what has become known as "lockdown".
The intervention options were also quite nuanced, embracing as they did (with outcomes coded as they were in the chart below) PC=school and university closure, CI=home isolation of cases, HQ=household quarantine, SD=large-scale general population social distancing, SDOL70=social distancing of those over 70 years for 4 months (a month more than other interventions).
I had asked the lead author of the paper why the effectiveness of the three measures "CI_HQ_SD" in combination (home isolation of cases, household quarantine & large-scale general population social distancing) taken together (orange and yellow colour coding), was LESS than the effectiveness of either CI_HQ or CI_SD taken as a pair of interventions (mainly yellow and green colour coding)?
The answer was in terms of any subsequent herd immunity that might or might not be conferred, given that any interventions as part of a lockdown strategy would be temporary. What would happen when they ceased?
The issue was that if the lockdown measures were too effective, then (assuming there were any immunity to be conferred for a usefully long period) the potential for any subsequent herd immunity would be reduced with too successful a lockdown. If there were no worthwhile period of immunity from catching Covid-19, then yes, a full lockdown would be no worse than any other partial strategy.
Sweden
I mention all this as background to a paper that was just published in the Journal of the Royal Society of Medicine as I started this blog post, on August 12th. It concerns the reasons why, as the paper authored by Eric Orlowski and David Goldsmith asserts, that four months into the COVID-19 pandemic, Sweden's prized herd immunity is nowhere in sight.
This is a somewhat polemical paper, as Sweden is often held up as an example of how countries can succeed in combating the SARS-Cov-2 pandemic by emulating Sweden. I have been, and remain surprised by such claims, and now this paper helps me understand the underlying reasons better.
Although compared with the UK, Sweden had done little worse, if at all, despite resisting the lockdown approach (although its demographics and lifestyle characteristics are not necessarily comparable to the UK's), compared with their more similar nearest neighbours, Norway, Denmark and Finland, Sweden has done far worse in terms of deaths and deaths per capita.
I think that either for political reasons, or for other related reasons, even some otherwise sensible scientists are advocating the Swedish approach, somehow ignoring the more valid (and negative) comparisons between Sweden and the other Scandinavian countries, as opposed to more favourable comparisons with others further afield – the UK, for example.
I have tried to remain above the fray, notably on the Twittersphere, but at least on my own blog I want to present what I see as a balanced assessment of the evidence.
That balance, in this case, strikes me as this: if there were an argument for the Swedish approach, then herd immunity would have been the payoff for experiencing more immediate deaths in favour of a better outcome later.
But that doesn't seem to have happened, at least in terms outcomes from testing for antibodies, as presented in this paper. As it says "it is clear that nowhere is the prevalence of IgG seropositivity high (the maximum being around 20%) or climbing convincingly over time. This is especially clear in Sweden, where the authorities publicly predicted 40% seroconversion in Stockholm by May 2020; the actual IgG sero-prevalence was around 15%."
Concluding comments
As I said in my August 4th post, the outbreaks we are seeing in some UK localities (Leicester, Manchester, Aberdeen and many others) seem to be the outcome of individual and multiple local super-spreading events, and are therefore quite hard to model, requiring very fine-grained data regarding the types and extent of interactions, and the different effects of a range of intervention measures available nationally and locally, applied at different times.
The "R-number" can be increased more noticeably by such localised events, because of the lower overall incidence of cases in the UK. While most people nationally aren't directly affected by these localised outbreaks, I believe that caution, and social distancing where possible is still necessary.